December 23rd, 2009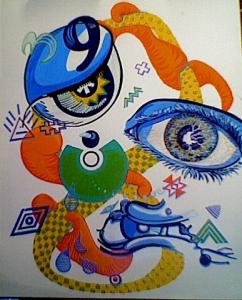 This particular piece is made up of many of the symbols researched over the years - from Native American to Dream symbolism, as well as some Numerology. While listening to a "Hay House Radio Show - Flowdreaming by Summer McStravick" I worked on developing this piece. It was an interesting venture into my soul's desires and needs at the time.
December 23rd, 2009
The latest work in progress has been posted to my blog which can be viewed at

http://wwwgailallenartist.blogspot.com/
November 8th, 2009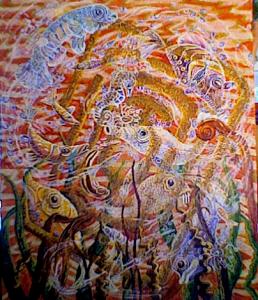 This painting is called "Finding the Keys". All of my work tends to have a double meaning, that which is apparent from first viewing, which tends to be realistically painted and the other more spiritual or ethereal meaning that may or may not be realized. This usually is the result of the symbolism I incorporate. Here I was pondering humanities search through the relics of time, looking for the "keys" to life and peaceful living. I am playing with texture and forms.This painting is still "in progress". I am currently working on value to make a more successful attempt. I may just let this sit awhile.
November 8th, 2009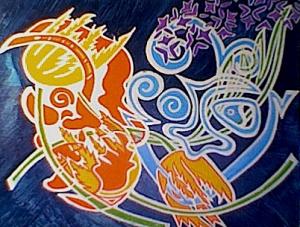 The 9 paintings all over the studio have been progressing quite slowly these past few months. My three sculptures are at a virtual standstill. But, other things are progressing on their own. Many new sites have sprouted up with my work, and I have made a great group of lovely new friends and followers. Creativity is thriving in other ways than on the easel and that is just fine...let it flow is my motto. To me, art is a form of communication that I use to convey what is inside me. It happens on the easel in a conscious form of the unconscious, a day at a time. Each day that I step out of the way of my soul and allow a sort of meditation while I paint, my soul gets stronger and works on deciding the outcome of my life. The painting in this post is titled "Take Time to Smell the Flowers". I view all artwork as beauteous sights that are offered as an escape, or for introspection, offering comfort and quiet to ease one in times of emotional vulnerability, and also offering uplifting experiences that make our hearts sing with glee. Life is good....my soul has not failed me yet in painting my life's picture as creativity blazes on. Right now, the scent of the flowers is a perfume to perfect for words. Life truly is great! May yours be as beauteous as the garden we have sown.
November 8th, 2009
"Painter's Painting" is an interesting film about Abstract Expressionism and the Pop Culture movement in American Art which is on DVD. The movie incorporates a collage of artists' portraits, through conversations in their studios, who lived in the postwar New York art scene. Johns, Rauschenberg, Frankenthaler, Hoffman, Noland, Olitsky, Motherwell and Frank Stella to name a few. The documentary film is by Emile de Antonio and focuses on the "New York Painting and Sculpture: 1940-1970" exhibition as well as an inside look into the minds of some of the most influential artists of our time. For me, it was very inspirational from a conceptual standpoint: a reminder of why I decided to be an artist and why I struggle to express myself and my ideas daily. To me, the film was a great foray into the creative thinking process, that left me feeling like I had just had a captivating and thought provoking lunch conversation with some of the best in the modern art world. Not to be missed.
June 11th, 2009
I am working on linking my painting journal called "Easeltides" to this site. In the meantime please visit my blog at

http://wwwgailallenartist.blogspot.com/

At the "Easeltides" web site you will find updates to works in progress, and also some previews of paintings I have blocked in as well as progressions of paintings.
November 17th, 2008
Spirit Rising

2007
Oils/Mixed media on paper
86.36 x 167.64 cm
There is a lot of heart and symbolism in this painting, which was researched over a five year period. It represents my views on the journey we all take in this life, from both a spiritual aspect and a more realistic one. I used the graphic shapes as a representation of the four stages of life, one rising out of the experiences of the other. I wanted a juxtaposition of the eye, bouncing between the realistic picture plane and the shapes that hover over it. This was done to represent our own inner journey as a soul spirit and the contrasting journey as a human spirit. Moreover, the conflict on where we should focus our attentions, as we journey through life. Each element in the picture has a specific symbolic meaning behind it. My hope is to take others on a similar uplifting journey as they experience the painting.Is the conscious, soulful life just as important as what we view as our "real" everyday life? This is the question I was asking when working on this painting.

This is also available through Lulu.com as a poster. Please go to: http://www.lulu.com/content/2728584
November 10th, 2008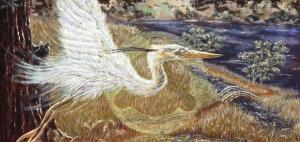 For future Blog entries please go to:
http://wwwgailallenartist@blogspot. com
I have become so busy with new gallery endeavors and sales, that I am finding I need to condense my journals into one site. You may get to the site by either the above URL, or by going to
http://www.gailallenartist.com (My own website) and clicking on "Links". The blog is the first link. Please do check it out, as it also has upcoming shows etc. Again, thank you for taking an interest in my work.
November 4th, 2008
October 26th, 2008
Recently, I have been asked by a few followers of my work, to do a blog on paintings in progress, keeping them up to date. This is a 30" X 40" oil on canvas, that was started early on a September morning. I had gone out to take photos for reference. I was intrigued by the abstract patterns of light, sky and evergreens that were reflected on the water. This was a fairly rock laden riverbed, leading away from the mountain, where the river was created by two separate streams flowing from the left and right. I did not begin to paint the painting there. Instead I sketched, wrote and sat, looking around, letting the memories and feelings I hold about nature and this place take hold. The paintings I create are not exact replications of the area I use as reference. They can end up being distinctly different in appearance than the actual location which I had observed. I am not trying to copy a specific location or view, but to capture that elusive feeling of the place that inspired me to stop there in the first place. In this case, the dark silhouette of the pines in the foreground stood like guardians of the river. In symbolism, the river represents universal potential, that of life, death and renewal. For some reason, as I work on this painting I want to add a figure standing on the rocks in the middle, "crossing over "so to speak. I am not sure if that figure will win its way into the painting at this point, or not. Stay tuned...
----------------------------------------------------------------------------------------------------------------------------------------------------------------------------------------------------------------------------------------------------------
______________________________________________________________________________________________________________________________________________________

November 4th, 2008
Creativity and my artwork have defined me for most of my life. In the past few years, I have had to put aside my own wants and needs, for others I care deeply about, to take care of them.. I believe it is in our deepest ravines and our highest peaks that we define ourselves. Coming out of that space is so revealing. Recently, I have been somewhat sidetracked on the above painting. Artist's seem to have periods of what I call " being enlightened", or being inspired creatively. This is one of those times for me. After a very long, tough period in my life, taking care of ailing family members, children and myself - things have begun to clear. Responsibility is shifting and releasing. The floodgates of creativity have opened, or overrun the dam, and I have so many concepts for paintings in my head, I can't get them down fast enough. In the past three weeks I have started eight new paintings, (all large). I also have two sculptures in progress. It is a time in my work that I really enjoy, but it can be exhausting as well. I awaken at night and write down what has come to mind during the middle of the night, or in a dream as I slept. I sketch, write and do color thumbnails of what I want to do with the idea. Its often 3:00 to 4:00 am when I get my best ideas
All the while, I still have a 6:00 wake up call, to get my son off on his day. So, there is little time for sleep. In the next few days I will be adding some of the ones that have come full circle through the process, as I finish them. Most are about 1/3 to 1/2 done. They are more contemporary in style, and extremely colorful. Again more along the lines of the "Planting the Seeds" painting. Thanks for your patience, I hope you will find the results pleasing. .

October 25th, 2008
Welcome, I hope you are stirred by my work. Currently I have three large 30" X 40" paintings I am working on in the studio. One is titled "The Bog", another is titled "Fire" (the image at left is part of the painting,"Fire"}, the third is not yet titled. Soon I'll be updating this blog to include pictures of paintings in progress. Stay tuned.
I prefer working on larger format, so each painting takes weeks to months. Right now, I have two other images that I am in the process of transferring to canvas, then I will block them in during the second week, and go on from there. Therefore, I work on a few at a time, based on which aspect I want to explore of my own life. I believe each painting reveals a part of the painter never before explored by ones self. It is a constant changing of perspective. My work tends to run in themes that reflect the perspective I am exploring. I find most often they relate to how much I am gardening, and how much of an influence nature is at any given time in my life. In between, I often go out on trips and do plein air paintings to keep my eye fresh.
The image of the crane that comes from the painting "Spirit Rising" has become my logo of sorts. That painting was a turning point in my career and life, so I want to keep it fresh in my mind as I work. It is a reminder to always be grateful for the changes in our lives, even when they seem the worst--there is always a rainbow on the other side of the haze we may be walking through. I also had another website at GailAllenPainter.com which opened with the crane "logo" I spoke about earlier. Having a koi pond outside of my studio, that is visited each day by a large heron, the crane figure is a constant image in my own daily life. Recently the GailAllenPainter.com website was taken down and GailAllenArtist.com has replaced it.
I hope you enjoy the insights into my work. Please return to see the current pieces as they are updated.